I've made editable and reusable 'warscroll' style cards for your Warhammer Fantasy armies.
These handy sheets replace having to print wasteful, cumbersome paper rosters every time you play. Simply grab the card for your unit, mark its options in pencil and erase when you need.
Not only is this more convenient, but you can personalise the warscroll with custom names, bios and photos of your actual models. I'm a big believer in fluffing out my armies, and this feels like a good way of boosting the immersion.
There are two options to play with:
Option 1) Prewritten Data Sheets
Edit the spreadsheets with stats, names and options for your units. Items that won't change will be printed, while variables can be jotted down in pencil or ticked off through checkboxes.
Download the templates below. I have included some examples from my Greenskins to demonstrate.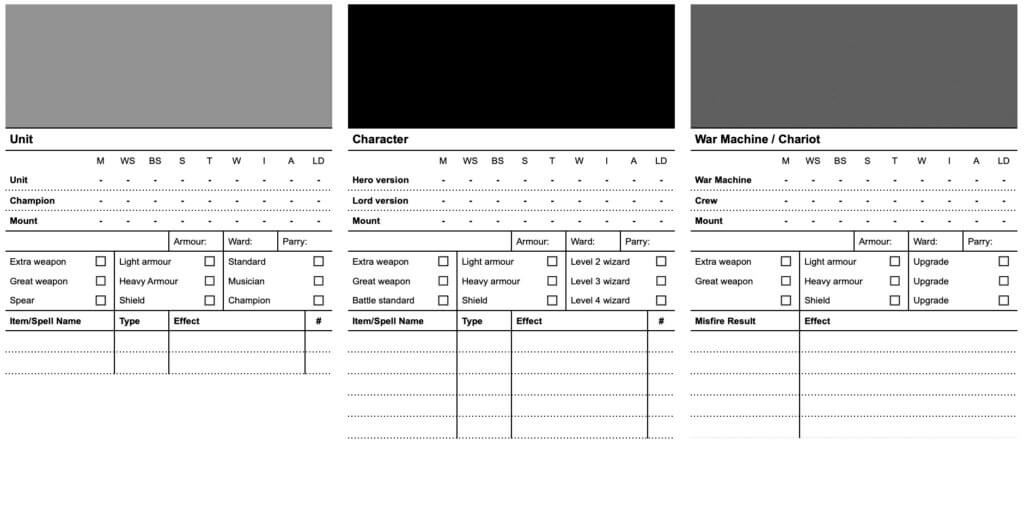 Option 2) Blank PDF
Feeling traditional? You may find it easier to print dozens of cards and fill in the stats by hand. To aid you, use this template. Really it's no different to the blank rosters you'd get in army books. These, however, are pocket-sized!
How to print
I designed these to print on 6″ x 4" cards, but there's nothing to say you can't resize these for your preferred paper type.
As far as sizing goes, it's a bit of trial and error. I hit a sweet spot in Print Preview that allowed me to print one card per sheet through Apple Numbers. Your mileage may vary depending on your operating system and spreadsheet software.
Which editions does this cover?
Any! My examples are for Warhammer Armies Project, but there's nothing stopping you from altering the stats to any edition – or any wargame for that matter! I expect a lot of units don't change much between editions, so it would be possible for cards to be 'one size fits all'.
Got a list? Let's see it!
Download, edit and print these cards at your leisure. If you do end up making lists for a Fantasy army, please consider sharing your work and I'll feature (and credit you!) here. No matter the army or edition, I'm sure folks will appreciate a handy set of data cards for their Fantasy armies.
For my part, I will (slowly) roll out army lists for my Dwarfs/Orcs and Goblins as I play them.
Have fun!
---
Existing Lists
Warhammer Armies Project (8th Edition)
Chaos Dwarfs
Chaos Dwarfs Online are fresh out of the blocks with printable warscroll cards for WAP 8th edition. Check them out here.